I've been thinking of ways that I can make my blog more than reviewing musicals/TV/film/books (now that I say that out loud, I realise that is actually quite a bit…anyhow). I had the idea having seen Theatre Tickets and Tea's post about a 2019 musical theatre bucket list. Considering I am a reckless spender with an addiction to singing and dancing, I pretty much tick off something from my theatre bucket list on a monthly basis. Which I am very fortunate to do. Something I did like to do though – and is a conversation I have with my boyfriend on a regular basis – are my standout musical theatre moments of the year. Seeing an awful lot of musicals, it was quite nice to think of particular moments during the show instead of musicals as a whole.
---
5. Little Shop of Horrors
Little Shop of Horrors was played in Regents Park Open Air Theatre from 3rd August – 22nd September 2018. Something that was immediately striking was the set design (which won a What's On Stage award). It must be tricky to determine how to design a stage that can be seen from multiple angles, with not necessarily one way to enter stage. The stage was set out like an abandoned drive-in movie theatre, with forced perspective boxes as skyscrapers. The highlight for me as to why it made this list were the three street urchins Chiffon (Renée Lamb), Ronnette (Christina Modestou) and Crystal (Seyi Omooba). Their energy was insane and harmonies and vocals on point throughout the entire stage production, so they even trump me seeing Jemima Rooper (who played Audrey, and I have watched on my TV since the tender age of 5).
---
4. Hamilton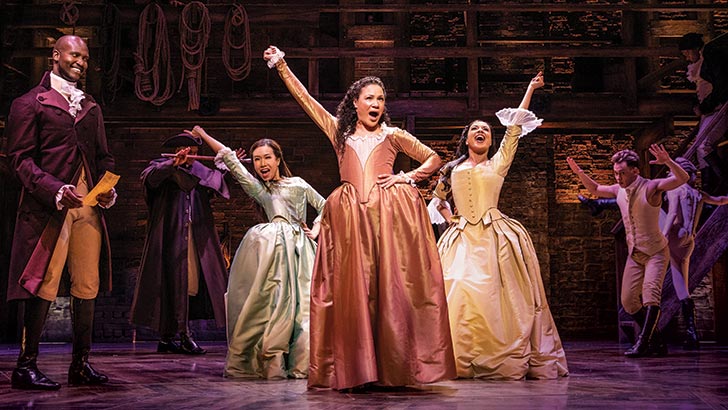 It's so hard to single out a particular part of Hamilton as being especially outstanding. I suppose because I'm so familiar with the soundtrack, it limited the degree to which I was surprised by it. However, the standout moment for me has to be in "Who Lives, Who Dies, Who Tells Your Story". Suddenly, Eliza, who has been in the background of the musical since singing "Burn", returns centre stage. Everyone turns to look. Spotlight on our heroine. All at once, the story that we have been hearing about her husband is firmly about Eliza Hamilton instead. The closing number leaves nothing to interpretation: this story is hers. Chills.
---
3. Flowers for Mrs. Harris
My boyfriend and I went to see this for our 6-month anniversary at Chichester. I maintain that a 6-month anniversary is not a thing, but this show ripped out my heart. It's based upon the book Mrs 'Arris Goes to Paris. I knew that it was going to be outstanding (and also eviscerate me while I say thank you) after the first scene. Ada Harris sits and has a conversation with her husband Mr Harris. Until it reaches the end of the scene and you realise that Mr Harris is in her head, and he has in fact died years before. Mrs Harris lives in a Battersea that has been devastated in the wake of World War 2, still reeling from the losses suffered. She sets her heart on buying herself a Dior dress and saves up every penny that she has for five years just to get the money to journey to Paris to buy one. The remarkable thing about Ada Harris' journey is that it doesn't happen by magic. It happens purely through her strength of character and drive. There were several moments during the show where Clare Burt's performance brought me to inconsolable tears. I have never cried at a performance that much in my life. Barely before have a even shed a single tear and here I was bawling my eyes out at the simple dreams of a cleaner in post-WW2 London. The simple pipe dream of longing to own a Dior dress might seem tawdry or bizarre, but it is entirely sold by Burt's earnest performance here. It's a shame that it is yet to transfer to West End, because it is truly something I believe more people need to see.
---
2. Heathers
So I have been fairly vocal about my love of Heathers. I adored it when it was Off-Broadway. I watched a bootleg and bought the original soundtrack when it came out. I love how 80s inspired the music is and how dramatic, dark and funny the book is. So I was ecstatic to hear that not only was Heathers coming to London but that it was also starring Carrie Hope Fletcher. I had tried to see Carrie in Les Miserables when she was Eponine but I just missed her. So hearing that she was going to be playing Veronica was incredible. We saw Heathers on the closing night at The Other Palace. The atmosphere was absolutely electric, and what was doubly special was the fact that we got to see one of the first performances of some brand new material in the form of new song "I Say No". I love this song. It's like an anthem for any person who has been in an abusive relationship, and I fell in love with it instantly, especially because of the raw way it was performed by Fletcher. I felt like I was witnessing part of history. It is the most empowered I have ever felt, and the entire audience was behind her. Seeing the song for the first time in context, with Carrie clearly feeling and meaning every word she sang was absolutely phenomenal.
---
1. Also Heathers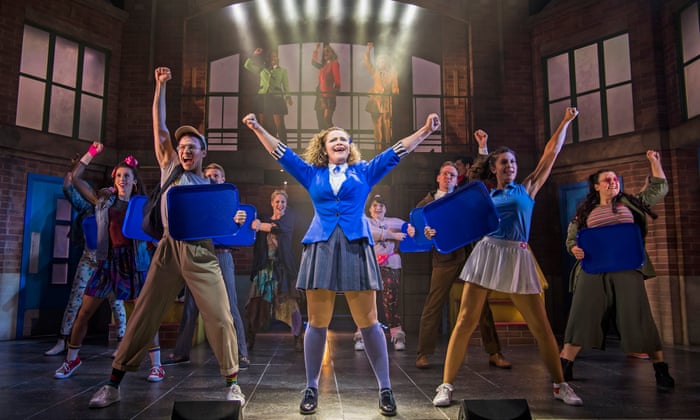 Yes, it may seem unfair for Heathers to fill two of my five highlight spots, but sue me. I care not.
I mean, this is purely because we saw Heathers on its final night at the Other Palace and the atmosphere was insane. When Carrie burst on stage to belt out the end of Beautiful, everyone lost their mind. It's already a moment that gives me goosebumps just on the soundtrack, so to see it in person sent shivers up and down my spine.
---
So there we have it. There are my 5 highlights of 2018 in theatre. Feel free to share any of yours below!