Welcome back, True Believers to another Musical Theatre Monday. It's totally not a thing because I am incredibly unreliable but let's try to make it a thing. Here is my long overdue review of Mean Girls that I saw on February 19th. Yes, I am that far behind. I've been busy. But nevertheless, I have lots to say on this musical. Plus, I was horrendously excited to see it. See below:
To those of you allergic to pop culture, Mean Girls is based upon the Tina Fey film of the same name that was released in 2004 staring Lindsay Lohan and Rachel McAdams. The plot revolves around Cady Heron, a sixteen-year-old who has previously been homeschooled by her zoologist parents in Africa being introduced to regular American high school. There she meets friends Damian and Janis, as well as being seduced by the popular girls Regina George, Gretchen Wieners and Karen Smith. The movie essentially explores high school cliques and the effect that this can have upon teen girls. For anybody who was anybody around the time, highly quotable lines abound in this film. For example:
"The limit does not exist."
"He's too gay to function."
"My boobs can tell when it's raining."
"Stop trying to make fetch happen."
"Is butter a carb?"
"Get in loser. We're going shopping."
"Four for you, Glenn Coco! You go Glenn Coco!"
"That's why her hair is so big. It's full of secrets."
"On Wednesdays we wear pink!"
"She doesn't even go here!"
So, as you can tell, this film is relentlessly amusing. I mean, it's written by Tina Fey, who has made very few missteps in her comedy career that I can tell. However, it did fill me with a sense of dread when I heard that Mean Girls was to receive the musical treatment. I was anticipating whole songs dedicated purely to particular quotes that would entirely rip the hilarity from the text.
I needn't have worried.
Clearly, Tina Fey, who wrote the book to the musical as well as the film, was as invested and knowledgable about how to transfer it to theatre as I hoped she would be. The music by Jeff Richmond and lyrics by Nell Benjamin serve to enhance the text and allows those quotable moments to be just as hilarious as they were originally – some of them even get little tunes (such as "On Wednesdays we wear pink!" – which I have been singing since I typed the quote earlier on. It's annoyingly catchy). There is a formidable number of songs on the soundtrack too, and each of them are unique. They serve to further explore the characters that we thought we knew from the film.
One thing that I love about the musical is that it adapts the source material to be more relevant to a modern audience. Feminism has come a long way since 2004 – which is sort of depressing, but also kind of great – meaning that Fey has adapted a load of the material from the original film to suit the current climate. When someone calls Cady a slut, for example, it allows a (sung) defiance from Cady to correct her for not supporting a fellow woman. The feminist message is definitely alive and well within this musical, through its depiction of healthy and unhealthy female friendships. I in particular love a moment between Cady and Regina, in which Regina tells Cady not to apologise for being a boss. It's a scene that I didn't realise I needed until I saw it here.
Furthermore, we get to delve deeper into the psyche of all of the characters. Having the songs to play with helps us to see the transformation that Cady (Erika Henningsen) undergoes as she herself becomes Queen Bee, from the hopefully optimistic (It Roars), to hopeless romantic (Stupid With Love) to timid schoolgirl (Apex Predator), to finding her defiance (Revenge Party), enjoying her newfound role (Fearless & More Is Better) before seeing the error of her ways (Fearless [reprise]), returning to her original self – though more self aware and confident (Do This Thing), and building bridges with her friends (I See Stars).
It also allows us to delve further into the minds of other characters, in particular Gretchen (Ashley Park). Her song "What's Wrong with Me?" is truly tragic, as it explores her inability to break away from Queen Bee Regina's torturous ways.
The great thing about the songs in Mean Girls is that they are all sonically distinct. A Cady song does not sound like a Regina song, for example. Cady's songs feature African-inspired pop sounds, while Regina's songs sound like they should be in a rock concert and have heavy guitars and brass. Gretchen's song is quiet and unassuming, like Gretchen tries to be. She tries to sink into the background, and this is apt. Karen's big number "Sexy" is exactly what it pretends to be: trashy pop, while Damian's numbers are old-school musical theatre fare. Finally, Janis' songs are a defiant Avril Lavigne-type pop rock vibe, that chimes well with Janis' outcast demeanour. It's something quite refreshing that helps the expansive soundtrack not become dull or repetitive.
So, in addition to the great book and music, it is also supremely well acted and performed. There was not a single note that was dropped in the entire show, which is phenomenal on a random Tuesday night in the middle of cold season. I was absolutely blown away by the entire cast, though I was surprised by Erika Henningsen (Cady Heron). Not because I didn't expect her to be amazing, because I fully did, but just because her voice was so reliable and consistent throughout the performance, not to mention powerful. Not only that, but I've just read that she is literally just this week (April 1st) going on her first week of vacation since the show opened a year ago. That is phenomenal. How she maintains her voice so well, I have no idea, but I would love to know so that I can do it myself. It's crazy. I was also stunned by Taylor Louderman (Regina George), though I knew that I would be. Her voice is so unique, and her riff game is incredible. I have no idea how she busts out those notes while being held aloft by hunky gentleman, but I feel like I should start making more jock friends so that I can similarly practice. Her voice has the ability to go from smooth treacle to a massive belt which made me sit back in my chair. It genuinely blew my mind.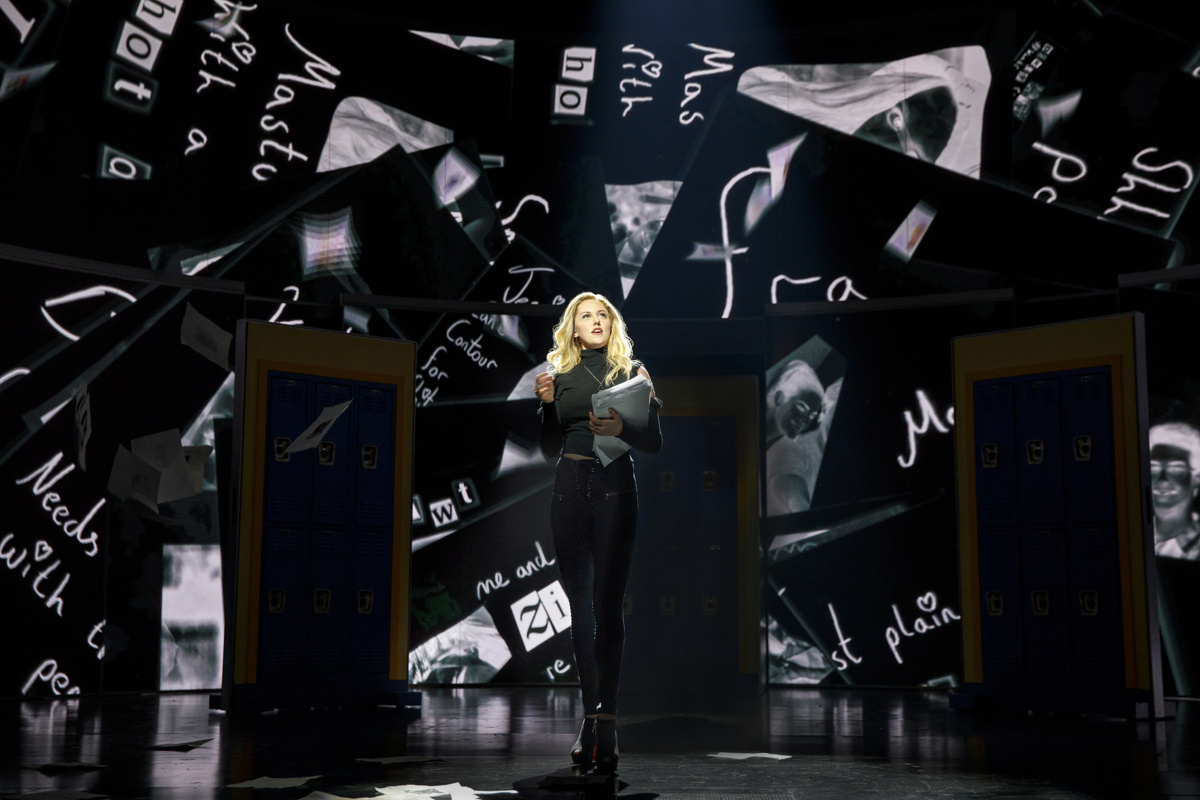 Accompanying these two formidable leading ladies were the rest of the main cast in the form of Ashley Park (Gretchen Wieners), Kate Rockwell (Karen Smith), Barrett Wilbert Weed (Janis Sarkisian), Grey Henson (Damian Hubbard), Jennifer Simard (Mrs. Heron/Ms. Norbury/Mrs. George) and Kyle Selig (Aaron Samuels). Jennifer Simard was absolutely hilarious as the parental characters, especially Mrs. George, and even has a very touching moment where she laments her difficulty in communicating with her daughter. Kate Rockwell plays Karen very deftly and helps to give her a hidden depth and intelligence even though she is horrendously ditzy. One particular section in which Karen reveals that most things actually mean two things is so wonderfully portrayed it made me bizarrely well up. Barrett Wilbert Weed plays Janis with such bravado concealing her obvious insecurities, and Grey Henson is fantastic as the energetic Damian. Kyle Selig is a great romantic male, and it's great how well he sees through Cady and challenges her. Finally, we have Ashley Park. I left her until last because Gretchen is probably the most complex. "What's Wrong With Me?" is such a touching number, but I did feel at moments, the direction almost shied away from making it too real. There were beats where you could sense Gretchen's anguish and then it was sort of retracted in favour of laughs as her forced smile came back. It was unnecessary for what could have been a heavily poignant moment.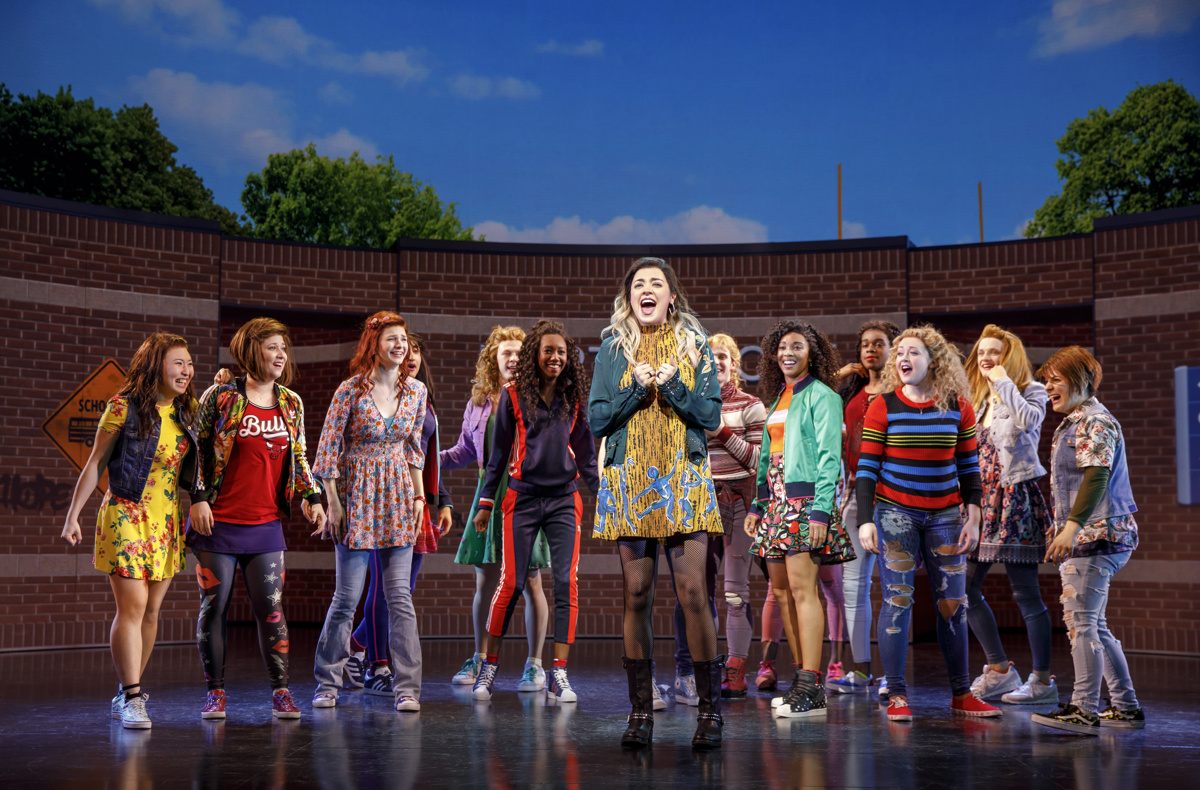 We therefore come to the direction by Casey Nicholaw. The staging was great, and the choreography was very slick. Especially in the ensemble songs, the movement was highly engaging. I was particularly fond of the sequences in which the high school students transform into animals (mainly because I got to watch Karen try to peck at pretzels for the duration of the musical number). I did get quite frustrated with the limitations of the staging, however. The set (designed by Scott Pask) was technologically impressive, featuring tall projected screens that allowed various scenes to take place without any trouble. Parts of these screens would slide across to reveal corridors on and off stage and through which set pieces and characters would enter and exit stage. While this was technologically impressive, it was blatantly obvious that these were screens. It almost limited the stage and made it feel 2-dimensional rather than more expansive, which is quite contrary to the way that Anastasia uses screens (more information in my next Musical Theatre Monday post totally still not a thing). It got to the point where I felt very frustrated every time I saw another set piece sliding onto stage from the wings. I got very bored of sliding, and just longed for something to come from above. Literally anything.
However, that is literally my one niggle with the production. The book and music is absolutely stunning and it is superbly delivered by the phenomenally talented performers gracing that stage on a daily basis. The sound design was brilliant, allowing all voices to be heard clearly and had clearly been thought through very clearly, providing a much more amplified sound compared to that I enjoyed with the more acoustic-sounding My Fair Lady. The only downside was the – while clearly technically stunning design – limited set, with a lack of creativity in the set pieces coming on and off stage.
Verdict: Fetch. So fetch.
---
Directed & Choreographed by: Casey Nicholaw
Book by: Tina Fey
Music by: Jeff Richmond
Lyrics by: Nell Benjamin
Starring: Erika Henningsen, Taylor Louderman, Ashley Park, Kate Rockwell, Barrett Wilbert Weed, Grey Henson, Jennifer Simard, Kyle Selig, Cheech Manohar & Rick Younger
Scenic Design: Scott Pask
Costume Design: Gregg Barnes
Lighting Design: Kenneth Posner
Sound Design: Brian Ronan
Video Design: Finn Ross & Adam Young
Music Direction: Mary-Mitchell Campbell