In the aftermath of defeating the threat from the North, Dany is about to discover that Cersei poses a greater threat than she first thought.
---
Season 8, Episode 4
"The Last of the Starks"
Starring Peter Dinklage, Nikolaj Coster-Waldau, Lena Headey, Emilia Clarke, Kit Harington, Sophie Turner, Maisie Williams, Liam Cunningham, Nathalie Emmanuel, John Bradley, Isaac Hempstead Wright, Gwendoline Christie, Conleth Hill, Rory McCann, Jerome Flynn, Kristofer Hivju, Joe Dempsie, Jacob Anderson and Hannah Murray
---
Jaime and Brienne grow closer, while Arya and Gendry drift apart.
Dany prepares to defeat Cersei in King's Landing.
Two devastating deaths seem set to put Dany down a dangerous path.
---
You'd be forgiven for thinking that, following the devastating Battle of Winterfell in the last episode that Thrones would be a reflective instalment this week. While there is plenty of this, and celebrating those who are still left alive, there is still lots of action and drama in store.
We start this episode looking backwards at what has been lost, as Dany (Emilia Clarke) and Sansa (Sophie Turner) weep over fallen friends Jorah and Theon before the myriad of dead bodies outside Winterfell are burned. This is then followed by a celebration, in which we see Dany become jealous over Jon (Kit Harington) and the love that is heaped upon him by the people of the North, while Brienne (Gwendoline Christie) and Jaime (Nikolaj Coster-Waldau) become closer during a drinking game instigated by Tyrion (Peter Dinklage). Eventually, this culminates in the two of them slowly undressing each other and giving in to the passion we have seen bubbling over the past 5 seasons.
Gendry (Joe Dempsie) is rewarded by Dany – in which I thoroughly interpreted her as getting her dick out and pissing over Winterfell like "look at what I can do, because I'm Queen", by being made Lord of Storm's End and formally recognised as a Baratheon. In the wake of this, he proposes to Arya (Maisie Williams), but she turns him down as she does not view herself to be a Lady.
Back at the celebration, Sansa and the Hound (Rory McCann) talk, in which the Hound reflects upon how different things would have been if Sansa had fled King's Landing with him when he had offered way back in Season 2. Sansa concedes that things would have been better for her, though she also accepts that without the machinations of Littlefinger and Ramsay Bolton she never would have grown from the Little Bird that she was when she lived in King's Landing. This is certainly true, and it's nice to see Sansa acknowledge her own growth from the naive and helpless girl we used to know.
Meanwhile, Dany tries to be normal in a private moment with Jon, but ultimately she broaches the subject of his true identity. She says that the two of the can continue as before, provided that he keeps his identity a secret and swears Bran (Isaac Hempstead Wright) and Samwell (John Bradley) to secrecy as well. Jon is adamant that he does not want to be King, though Dany tells him this is unimportant because of the pedestal that he is put upon, and the fact that he became the King of the North without wanting to be either. Jon says that regardless, he needs to tell Sansa and Arya because they are his family and they deserve to know. Dany's expression turns cold and she leaves the room.
The following day, the combined forces of Dany and Jon strategise on how they are going to take King's Landing and get Cersei (Lena Headey) off the Iron Throne. Dany is confident that, having won the war against the White Walkers, she is now going to be victorious over Cersei. However, she has failed to really acknowledge the heavy losses that they have suffered against the Night King in the previous episode. Sansa has the nerve to suggest that the North forces need time to rest, which is met with disapproval from Dany, who is peeved that she lost most of her forces to protect the North and now that is not being exchanged by them. Retrospectively, Dany probably should've heeded Sansa's warning instead of launching into battle so quickly. The plan is for Dany and her fleet to sail to Dragonstone, while Jon and the North forces march down the Kingsroad.
Following her confrontation with Dany, Sansa, Arya and Bran meet with Jon and express their distrust of Dany. Jon is quite forceful that without Dany they would be dead, and the three agree that an alliance made sense for Jon. For some reason, despite their evident dislike and distrust of Dany, Jon tells Arya and Sansa of his true parentage, though swears them to secrecy. While watching Dany and her dragons fly away, Sansa immediately reveals what she knows to Tyrion, asking him whether there is somebody better than Dany that could sit on the Throne.
Jaime elects to stay in Winterfell with Brienne (I am quite surprised that she is staying, but she is adamant that she stay with Sansa and Arya to protect them), at which point Bronn (Jerome Flynn) appears, broadcasting his intention to kill them, though also conceding that Cersei is likely not going to win the war and therefore wants persuading. Jaime and Tyrion manage to persuade him to spare their lives in exchange for Highgarden.
The Hound and Arya leave Winterfell together, both of them citing unfinished business they need to attend to in King's Landing. Jon bids farewell to Tormund (Kristofer Kivju), who is heading back North with Ghost and to Samwell and Gilly (Hannah Murray), who reveal that they are expecting.
Dany's fleet, including Varys (Conleth Hill), Grey Worm (Jacob Anderson), Missandei (Nathalie Emmanuel) and Tyrion, are sailing to Dragonstone. Varys and Tyrion are consumed with working out the problem of whether or not Dany or Jon should sit on the Throne. Tyrion's solution (which does seem the most obvious) is for the two to marry and to rule together, though Varys is concerned that marrying relatives isn't customary in the North and that Dany doesn't seem eager to share her rule. It seems quite a moot point in just a moment, however, as Euron Greyjoy's (Pilou Asbæk) attack the ships and Dany's dragon. Rhaegael is hit by a spear and plunges into the sea, dead, and Dany flees the scene on Drogon. Grey Worm's ship is destroyed by spears and he, Varys and Tyrion wash up on the beach at Dragonstone, though Missandei is nowhere to be seen.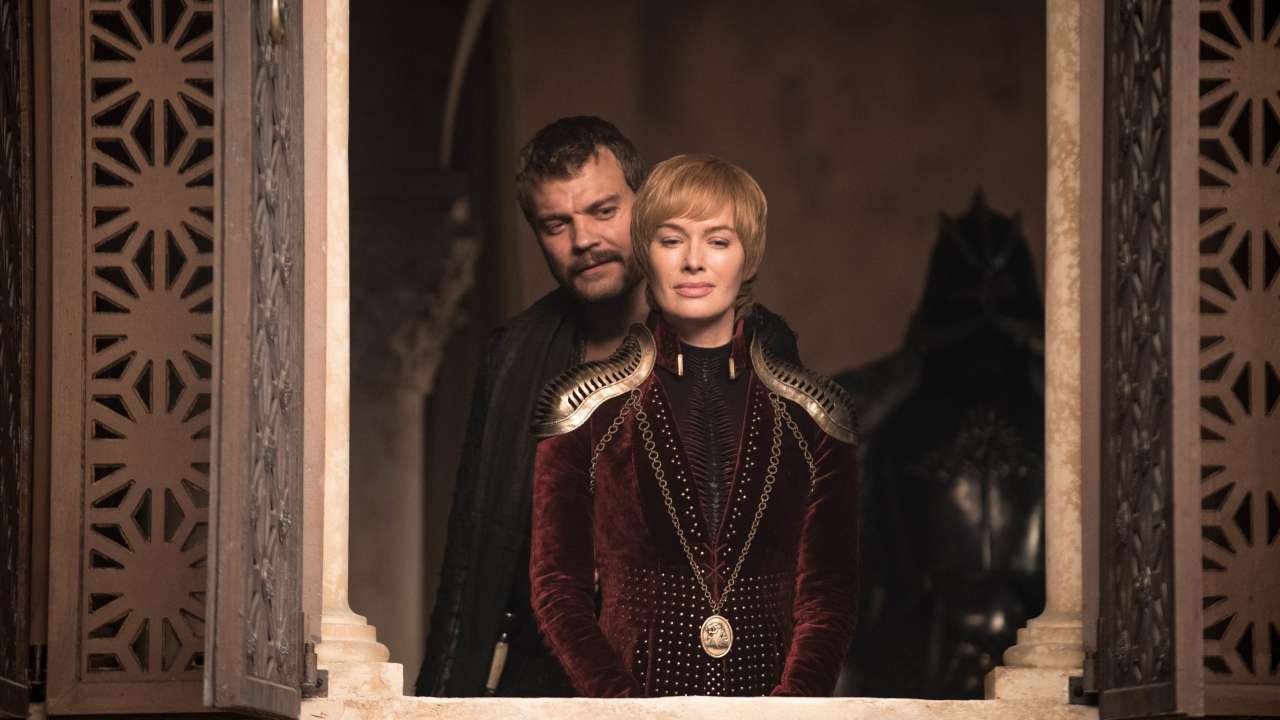 In King's Landing, Euron tells Cersei of the death of one of the dragons, as well as capturing Missandei. Cersei instructs that the doors of the Red Keep be left open, providing a civilian barrier of protection for herself such that if Dany wants to kill her, it will also involve the murder of many innocent people in the process.
Tyrion and Varys advise Dany on what to do next, though she is keen to take King's Landing by force (again, failing to realise that she really doesn't have the forces until Jon arrives). She concedes that she will give Cersei an opportunity to surrender, and, should she not, the devastation will be on Cersei's conscience and not her own.
Meeting with Cersei at King's Landing, Cersei and Dany both demand the other's surrender. Cersei refuses to back down, even when appealed to by Tyrion himself, and suggests that Missandei say her last words. Missandei confidently proclaims "Dracarys" before she is beheaded by the Mountain in front of both Dany and Grey Worm. Dany storms away from the gate, her face the picture of pure rage.
Musings
Missandei was one of the purest characters left in the show. The way that she has been written out is cruel, but it is fitting. The fact that she is so beloved by the fans, and by characters alike, has meant that her demise is not one in a long list, but rather a focal point and an important transition point within the story. It's clearly the catalyst for Dany to unleash some mythic hell on King's Landing, as well as revealing that Cersei truly isn't going down without a fight. Her ruthlessness truly knows no end, as also demonstrated by her using of the citizens of King's Landing to protect herself.
Tyrion has remained loyal to Dany, despite Jon's true parentage, but considering her own ruthless streak that seems to be beginning, is this set to change in the two episodes that are to follow?
I cannot get behind Jon's decision to tell Sansa and Arya. It's convenient, for sure, because they need to know, but he also must know that Sansa especially is not going to keep that under her hat. They proclaim that they are family and they are loyal to each other, as well as being distrustful of the foreign Queen, so why would they keep that information to themselves when it could mean Jon on the throne and Dany gone?
I am pushing for the most logical solution for Dany and Jon to be together. Dany has always been tempestuous and immature, but it would be a shame for this to be her ultimate downfall. Without Jorah around, she has lost one of her more trusted advisors, as well as only having one dragon left and limited forces at her disposal. Dany is still adamant, however, that the throne is hers, even though it strictly shouldn't be, as it's Jon's birthright. Dany is clearly very driven towards power, and she is showing a very dangerous character arc in these few episodes so far.
I am desperately hoping that Arya's journey to King's Landing is to slay Cersei. I will accept nobody else doing it.
Jaime and Brienne finally getting together, only for him to leave is possibly the worst possible eventuality.
I wonder whether this is truly the last we see of Tormund, Gilly and Samwell now that their narrative function is terminated.
I'd love to think that Sansa is safe now that she is in the North while everybody else has ridden South, but I fear it shan't be that simple. I wouldn't put it past Cersei to be cunning enough to launch a sneak attack on Winterfell while she's getting attack in King's Landing.
Verdict
This episode was a bit of a slow burn. It was naive of us, the audience, as well as Dany, to believe that Cersei would be less of a match than the Night King. She is ruthless and vindictive, and there are no lengths that she won't stoop to to maintain her seat on the Throne. After all, she has nothing to lose. She knows that she will die if she does not win, so she might as well go all out to ensure her victory. The traumatic events at the end of the episode, as well as the reverse in fortune for Dany, were beautifully written and well realised, and truly make the audience feel like nobody is safe again. Here's hoping that the arrival of Jon's forces, as well as Arya, see Cersei start to lose again.
My predictions
Prediction
Tyrion Lannister
Jaime Lannister
Cersei Lannister
Daenerys Targaryen
Jon Snow
Davos Seaworth
Sansa Stark
Arya Stark
Theon Greyjoy
Missandei
Brienne of Tarth
Samwell Tarly
Bran Stark
The Hound
Varys
Melisandre
Tormund Giantsbane
Gilly
Bronn
Gendry
Jorah Mormont
Current fate
Tyrion Lannister
Jaime Lannister
Cersei Lannister
Daenerys Targaryen
Jon Snow
Davos Seaworth
Sansa Stark
Arya Stark
Theon Greyjoy
Missandei
Brienne of Tarth
Samwell Tarly
Bran Stark
The Hound
Varys
Melisandre
Tormund Giantsbane
Gilly
Bronn
Gendry
Jorah Mormont
Location
Dragonstone
En route to KL
KL
Dragonstone
En route to KL
En route to KL
Winterfell
En route to KL


Winterfell
Winterfell
Winterfell
En route to KL
Dragonstone

Going North
Winterfell
Winterfell?
En route to KL?


In a disheartening turn of events, I have been proved wrong. My darling Missandei – probably the most pure of heart left in the show – has met an unfortunate end at the hands of Cersei, along with Rhaegal the Dragon, leaving Dany with only one dragon left.
Next week
Tune in next week for another review of Game of Thrones' final season.