The Game of Thrones finally has a winner, as the record-breaking saga concludes.
---
Starring Peter Dinklage, Emilia Clarke, Kit Harington, Sophie Turner, Maisie Williams, Liam Cunningham, John Bradley, Isaac Hempstead-Wright, Gwendoline Christie, Jerome Flynn, Kristofer Hivju, Joe Dempsie and Jacob Anderson.
---
It's an episode that's focussed more upon reflecting upon what has come to pass rather than more conflict. It's an episode that spends its time satisfactorily wrapping up the storylines that have been introduced to us over the past ten years. Lots of the hour is spent in silence, in the aftermath of the horrific attack that Dany launched on King's Landing last week.
The episode opens with Tyrion, Jon and Davos entering the ruins of King's Landing, as ash ominously and silently falls from the sky. The city is utterly devastated, with charred corpses lying by the side of the street and entire buildings decimated. While Jon offers to come with him, Tyrion elects to go alone, and journeys to discover the bodies of his siblings. Underneath the Red Keep, to his visible bodily horror, he sees Jaime's golden hand poking up out of the rubble. Holding back the emotion, he pulls back the bricks to reveal first Cersei and then Jaime's fallen bodies, lying in an embrace, both obviously dead. Overcome with emotion, Tyrion sobs at their graveside.
Meanwhile, Jon happens upon Grey Worm about to execute some Lannister loyalists, and attests that the battle has been won and there is no need. Grey Worm responds that those are the instructions that he has been given by his Queen: to root out and execute all those who pledged their loyalty to Cersei. Jon, in slight disbelief, walks away to find Dany and get to the bottom of the situation.
Outside of the gates of the city, Arya and Jon watch as Dany addresses the Dothraki and the Unsullied in Dothraki/Valyrian (I have no idea anymore) indicating that this is just the beginning of the liberation, and that she shall continue to liberate other kingdoms as she did in Essos previously. After promoting Grey Worm to Master of War, Tyrion appears from the city and is confronted by Dany for freeing Jaime. Tyrion acknowledges that he did free his brother, but condemns Dany for slaughtering a city, before throwing away his Hand of the Queen pin. Dany has Tyrion arrested for his treason.
As Dany leaves, Arya appears next to Jon, much to his surprise. She tells him that Sansa will never bend the knee to Dany, and that Jon should be wary of her. After all, he is a contender for the Iron Throne and therefore a very viable threat for Dany. Visiting Tyrion, Jon attempts to defend Dany's actions, citing Missandei's demise and the loss of her dragon, but Tyrion does not accept these as justifications for destroying the city, especially considering Dany says that she is not yet done fighting. Tyrion attempts to persuade Jon that something needs to be done about Dany, and he seems conflicted, though as a last resort, Tyrion questions Jon as to what will happen to his sisters should they refuse to accept Dany as their Queen.
Meanwhile, Dany has found the remains of the Throne room and, miraculously, the Iron Throne remains in tact. In a definite throwback to her vision, Dany steals one touch of the Iron Throne before Jon appears behind her. Wistfully, Dany recalls the tales her brother would tell her of the Iron Throne as a child and how she imagined a mountain of swords from merely a thousand. Jon beseeches Dany to forgive Tyrion and the Lannister loyalists, but Dany insists that there is no place for mercy. Jon points out that they are recreating the world and they would want to create a place for mercy, but Dany insists this is the way to build a better world at this point. She indicates that the two of them know what is good, but Jon points out that lots of people think they do. Dany rebuts that the others do not have the choice. As the pair kiss, Jon insists that Dany is his queen for always, before driving a dagger through her heart. She registers a brief surprise, before she dies in his arms, and Jon holds her dead body.
Sensing the death of his mother, Drogon alights in the Throne Room and nudges Dany's fallen body (in a heartbreaking reference to The Lion King, why god why) and, in a fit of rage, melts the Iron Throne with his fire until it is nothing but a molten puddle. Clutching Dany's body in his claw, Drogon flies away from King's Landing.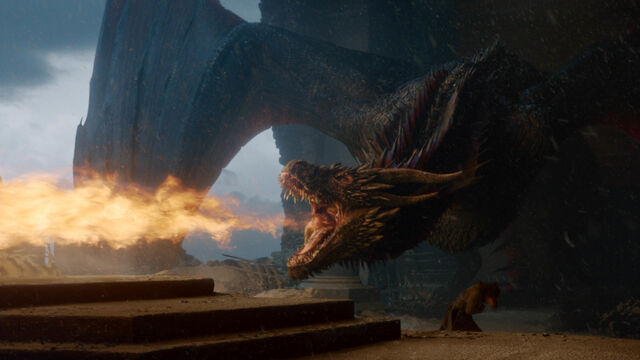 Weeks later, the nobles of the realm have gathered in the Dragon Pit and Grey Worm brings them Tyrion. He was also meant to bring Jon, but insists that his decision is that Jon remain a prisoner. Tyrion points out that Grey Worm has no place to decide, and the thoughts of the company turn to what should happen next to the country. Samwell suggests that they have a vote and is laughed away, and then thoughts turn to who in their company should be the new ruler of the Seven Kingdoms. Edmure Tully stands, but is deftly asked to sit back down by Sansa. Tyrion's suggestion is for Bran to take the Throne, claiming that everybody loves a story, and Bran holds the History of Westeros in his head as the Three Eyed Raven. Sansa points out that Bran can't have children, but this works in Tyrion's favour as he believes that rulers of the Throne should not be born into it, but rather chosen, so that they do not repeat past mistakes. Tyrion asks if Bran would accept the post, and Bran responds "why do you think I came all this way?". The assembled lords agree with Tyrion's suggestion, with the exception of Sansa. While she believes that Bran will be a wonderful King, she wishes for the North to be Independent as it used to be. Bran agrees to her demand, and then appoints Tyrion as his Hand and decrees this his atonement for past mistakes in order to appease Grey Worm.
Bran being King does not fix everything, however. There is still the matter of Jon's murder of Dany. While Sansa and Arya were keen for a pardon, the Unsullied were in favour of execution, therefore resulting in the compromise of Jon being sent to the Night's Watch, in a delightful full circle movement. Before he leaves, Jon says goodbye to his family, wishing Sansa luck as Queen of the North and asking Arya what her next plans are (turns out that she wants to discover what is West of Westeros), and finally kneels at Bran's feet.
Brienne updates the annals of the Kingsguard by indicating that Jaime died protecting his Queen.
The new small council meets, with Tyrion as the Hand, Bronn as the Master of Coin, Davos as the Master of Ships, Brienne as Commander of the Kingsguard and Samwell as Grand Maester. They are still missing a Master of Whisperers and Master of Laws, and Bran indicates that he shall work to locate Drogon. After being wheeled away by Podrick, who is now a knight, talk turns to other things. Tyrion needs food for Highgarden, which he is assured by Bronn. Davos needs funds to rebuild the navy, while Tyrion also expresses the need for a sewer system to improve hygiene, though Bronn wants to restore the brothels first. The camera pans out as the group squabble.
The season ends with Jon arriving at Castle Black and being reunited with Ghost and Tormund. Sansa is crowned Queen in the North, while Arya stands on the bow of a Stark ship heading towards the unknown. The series ends with Jon and Tormund leading the wildlings back north of the Wall.
Musings
I know that some people might be irritated that this is where Dany's story ended up, but unfortunately in this storyline it makes complete sense. Dany has come to far to stop now. She has always been ambitious and sees injustice within the world and wants to correct it. Considering her conquest over in Essos, it is unsurprising that she wants to continue to rule over other places and reinvent them within her own image. Coupled with her slaughter of King's Landing last episode, it would have been too inappropriate an ending for the series to come full circle with yet another vicious power-hungry monarch in control. It wouldn't feel like an ending, just another recipe for disaster. If Dany had heeded Jon's warning, then she might have been able to live, but she was not going to do that. Therefore, there was no other option but to kill her. It's fitting that hers is the only death within this episode, giving it the appropriate gravitas and weight for such a major character.
Tyrion reasoning for putting Bran on the throne is really alarmingly flimsy when you examine it. I mean, is his really the greatest story of the show? He was literally missing from an entire season and I think that might have been my favourite season. Arya, meanwhile, literally trained as an assassin and destroyed the Night's King. If you want a good story, Tyrion, look no further! Or, indeed, Sansa, who has also had a compelling story. But hey, Bran works too. He's relatively inoffensive, though if there's ever a rumbling of a rebellion, that chair won't do him much good. Hopefully his magic foresight is helping him stay out of trouble.
Arya had a very fitting ending to the series as the journeys literally into the unknown. Let's be honest, she was never going to settle down after this whole experience, but it's nice to see her happy and safe.
Can this episode get an award purely for the shot of Dany with Drogon taking off behind her? Truly chilling. Seeing her at the head of an army next to a decimated city really helps us see how far she has fallen, and how easily it can happen when you wield such insane levels of power.
Ultimately, this episode is a joyful return to the type of storytelling Game of Thrones used to do: more focussed upon practical aspects and politics instead of huge battles, which only used to happen once a season. It's nice to think about how the country will rebuild after the devastating war, and if anything this finale feels more like a beginning than an ending.
Verdict
This season of Game of Thrones has come under heavy fire for dissatisfying the fans, but having seen the ending, I have to say that they have done the unexpected. Sure, some plotlines led nowhere, but not all plotlines need to lead somewhere. That's part of the appeal of Game of Thrones: that some characters can just be eliminated even when they have potential or information that other characters do not. Part of the entire premise of Game of Thrones is that there isn't necessarily a grand existential plan, and this falls in line with that. Ultimately, lots of the problems that people have is because it hasn't necessarily gone their way. Wrapping the story up in six episodes is a mammoth task, and looking at the crux of it, the actual events in this season have been simultaneously gargantuan and small fry. Ultimately, what happened was that the White Walkers attacked and were defeated, Dany then decimated King's Landing and then was slain herself. Along the way there was a whole lot of detail, but broadly that's the summary of what happened. Who would have known it could be that simple considering all of the years of build up? I suppose it's what happens when you bring a dragon to a board game. While the season was pretty inconsistent, this episode was stunning. While the other episodes relied upon heavy character interaction and huge battle sequences, this episode allowed for silence and breathing space to reflect. It was a visual buffet and allowed us some quiet moments with each of our characters as they rocket towards their ends. We see Tyrion's anguish at being the last Lannister left, see Dany's longing and relief at achieving what she had dreamed of for so long and see Jon's heartbreak at making the most terrible of decisions. It was a much more emotional affair than the blockbuster previous episodes, and ultimately the Game of Thrones was solved by talking and resolving not to fight anymore, instead of through conquest: a valuable takeaway message, for sure. It's a very fitting conclusion, even if it doesn't go the way you expect it to – and if anything it's more of a beginning than an ending. The future is filled with bright possibilities for our characters, and we see them all satisfied and passionate about where they have alighted at the close of the series.
Ultimately, we are unlikely to see a phenomenon like Game of Thrones again. A truly epic tale told across 73 episodes, with myriad characters and complex plots, and ultimately, it comes down to an adult conversation from those who have learned from past mistakes.
My predictions
Prediction
Tyrion Lannister
Jaime Lannister
Cersei Lannister
Daenerys Targaryen
Jon Snow
Davos Seaworth
Sansa Stark
Arya Stark
Theon Greyjoy
Missandei
Brienne of Tarth
Samwell Tarly
Bran Stark
The Hound
Varys
Melisandre
Tormund Giantsbane
Gilly
Bronn
Gendry
Jorah Mormont
Current fate
Tyrion Lannister
Jaime Lannister
Cersei Lannister
Daenerys Targaryen
Jon Snow
Davos Seaworth
Sansa Stark
Arya Stark
Theon Greyjoy
Missandei
Brienne of Tarth
Samwell Tarly
Bran Stark
The Hound
Varys
Melisandre
Tormund Giantsbane
Gilly
Bronn
Gendry
Jorah Mormont
So, looking and comparing my predictions with what actually happened, I have to say I wasn't too far off. I was correct that Cersei wouldn't stay on the Iron Throne all the way until the end, and that Jaime would die also. I am so glad that Sansa survived too, as I've always massively stanned for her and to see her become Queen of the North was a delight. To be honest, for a show that has a reputation for no one being safe, I am surprised by how many of the main cast made it out alive, but looking at the plot it would have become very tenuous to kill them off at this late stage.
MVP
I couldn't possibly name just one MVP for this episode, everybody is too phenomenal. Just, thank you to this amazing cast for breathing life into these sensational characters. Maisie Williams has been consistently incredible, especially in this final run, adding important nuance and maturity to Arya who looked as if she had forgotten to smile over the past few years. You saw the tough veneer stripped away and the scared child underneath at key points this season, helping illuminate a whole other side that we thought was long lost. Sophie Turner has really charted the journey from naive young girl to a headstrong young woman in Sansa, and the end of her journey is so earned. She carries her scars with her and has developed and learned along the way. Emilia Clarke heroically shouldered even the ugly parts of Dany's personality and played them just as truthfully as the positives.
Oops, have I only named women? So sorry. I stand by it.
And there we have it: the final season has taken its final bow. And now we can all have the joy of binging all eight seasons at once, as emotionally stable people do. Our watch, dear friends, is over.